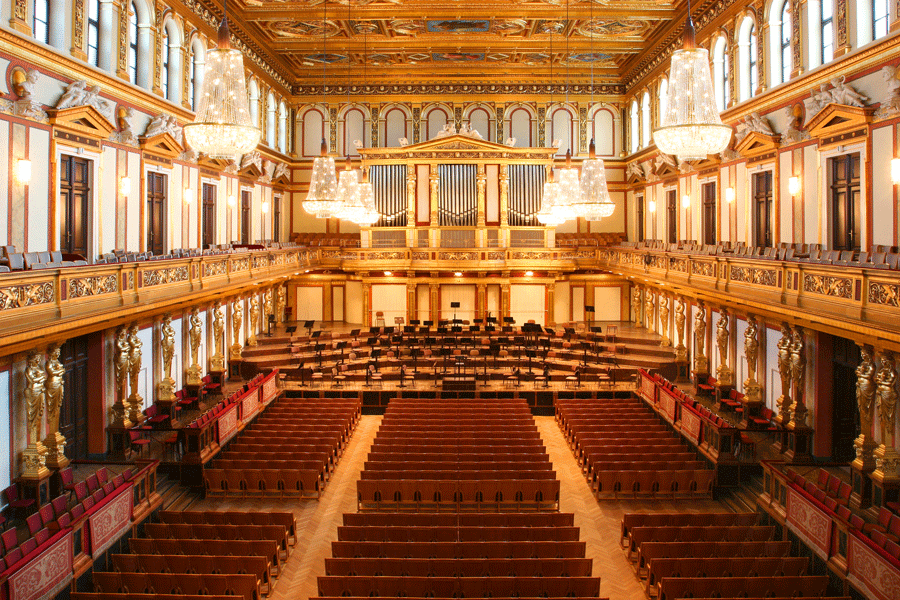 After more than a century, the characteristic music of 19th centuries Imperial Vienna gained over the last few years growing prestige and found its place in the tradition of New Year celebration. At this time of the year, hundreds of concert halls and theatres all over Europe are filled with the enthusiasm and the applauses inspired by the contagious rhythm of waltzes, marches and polkas.
The popularity of this music is vastly due to the eternal popularity of the Vienna Symphony Orchestra concert broadcasted on TV and watched by millions of people every year. Nowadays this concert is an irreplaceable show in Austria as in many other European countries. The spectacular show this concert season cannot be without.
The combination of the famous marches, polkas and waltzes of Johann Strauss and the dancing couples dressed in tuxedos and romantic dresses will take you back in time to the Viennese ballrooms of Franz Joseph and his Sissi.
Monument to Johann Strauss, a golden bronze statue that was inaugurated in 1921 to pay him homage. It is located in the most famous park of Vienna, Stadtpark
Unlike the music of the most prominent Viennese composers of that time (just remember the names of Haydn, Schubert, Beethoven, Brahms, Bruckner and Mahler), the ballroom dance had no aim of being considered as superior art. Along the years its perception has changed and now it can be rightfully considered as authentic concert music. Moreover, it is one of the biggest symbols of the charming atmosphere of the court of Emperor Franz Joseph as significant as the symbol of the Emperor's legendary wife, the Empress Elizabeth of Wittelsbach (Sissi).
Although the current great interest in this music is so closely associated with a whole era and with a very specific trend, which is so far from us, no New Year celebration could be considered complete without it nowadays. The Great Johann Strauss Gala, the classic one, has been irremediably associated with toasts and fireworks, as well as unforgettable waltzes, such as Blue Danube Waltz, Fairytales of the Viennese Woods, The Emperor's Waltz and Radetzky March that traditionally close the concerts accompanied by the enthusiastic applauses of the audience.
Cover of the sheet music for "The Blue Danube", 1867.
© 2017-2018 by Strauss Festival Orchestra.